Years ago, children in primary schools were taught how to grow crops through 4K Clubs. The 4Ks stood for Kuungana, Kufanya, Kusaidia Kenya in Kiswahili, a clarion call to help the country be food secure. Popular farming activities included keeping rabbits, chickens, goats and growing horticultural crops for lessons and schools generated some income from them.
The clubs existed in every public primary schools, but died in early 1990s. Prof Ruth Oniang'o, an agriculturalist and a nutritionist, believes the country needs to reintroduce the 4K Clubs in schools if it is to be food sufficient. "4K Club is what moulded my career in early life," says Prof Oniang'o.
"We used to work on the farm while in primary school as well as clean the classrooms and smear dung on the floor every Friday to keep away jiggers. I enjoyed agriculture a lot, as it was not a form of punishment," she tells Seeds of Gold.
Agriculture, however, is not part of the curriculum in primary schools currently, and is an optional subject in high school. However, despite the developments, Prof Oniang'o is working with schools in western Kenya to revive the 4K Clubs.
Through her Rural Outreach Program (ROP) Africa organisation, in collaboration with Nestle, she has introduced the clubs in 20 schools in Kakamega County, with pupils already producing food that is not only supplementing school feeding programs, but is also a source of income and nutrition.
At Shisango Primary School in Kakamega, 42 members of the school's 4K Club are growing sweet potatoes, indigenous vegetables, tomatoes as well as keeping goats and indigenous chickens.
"This model works well because most public primary schools have farm land which they can use to promote agriculture, build future leadership and instil a sense of humility and servant-hood in learners," says Oniang'o.
Peterson Mutsotso, the 4K Club patron at the school, says pupils are taught farming techniques and they also learn about pests and diseases.
Pupils duplicate the techniques at home
"Soils in Shisango are highly infested with root-knot nematodes (Meloidogyne spp), which are microscopic worms that live in the soil and feed on the roots of crops such as tomatoes. However, the school's club has been able to grow tomatoes and generate income out of it despite the infestation. This is because we plant the tomatoes in sacks. But before planting, we first treat the soil so that it is nematode free," he says.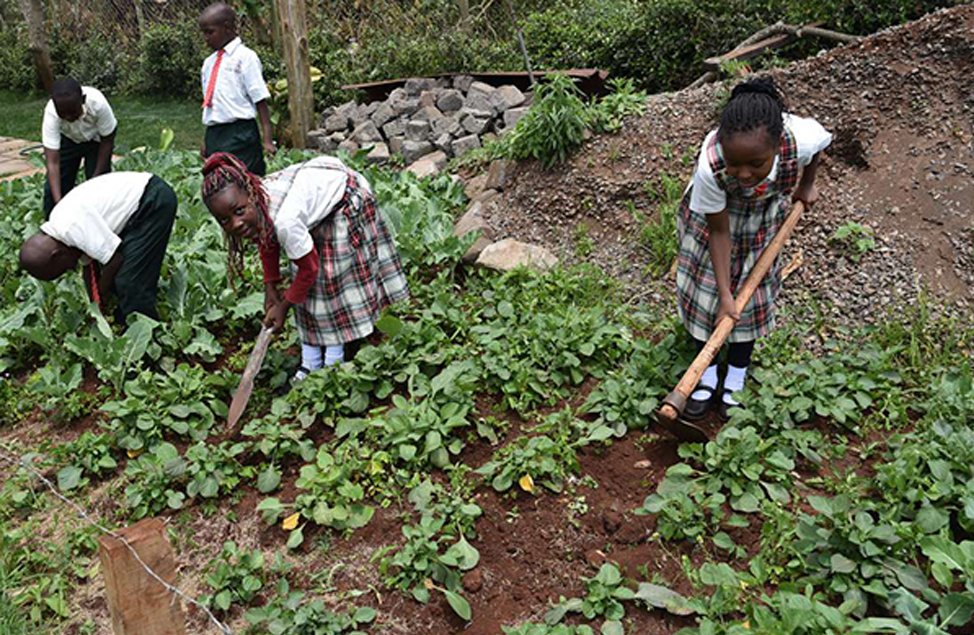 The soil in the sacks is arranged in layers from rocks and pebbles at the bottom, followed by organic matter, then top soil and lastly manure.
Boiling water is then poured into the sacks to kill the nematodes, and then it is left for three days to cool before the tomatoes are planted. Pupils duplicate the techniques at home.
"Last season we earned Sh7,000 from tomatoes alone," says the teacher. Club members have been assisted by the school management to open a bank account, where they keep all the proceeds from their farm projects.
"Many times parents are asked to pay for some school projects, including the feeding programmes, but with the 4K Club members, we use the money to pay for them," says Mutsotso.
At Lunza Primary School, all 4K Club members have been given a hen each to rear at their homes. And at the school, the club recently harvested 19 bags of maize, which they intend to sell and keep the proceeds in a bank account.
"Through this initiative, I believe we are giving children a perfect foundation, which will help them grow into responsible citizens," says Bernard Imbai, the club's patron at Lunza primary school.
Oniang'o says given the broad benefits from the agricultural activities, it would good for county governments to budget for primary school agricultural activities.
"This can be crops, animals, aquaculture, apiculture, insect harvesting and so on because potentially, agricultural value chain remains the biggest employer of young people," she says, adding 4K Clubs should be part of the agriculture Big Four Agenda.